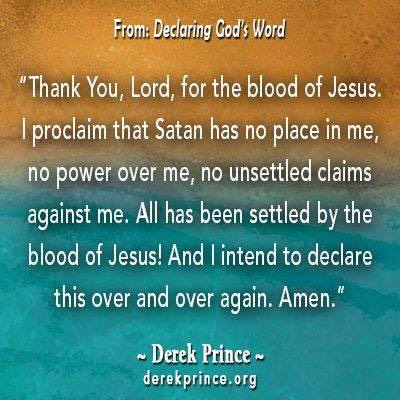 Prayer: Lord, hear my prayers. Let me know that I am not alone; that You are truly close to me. When I feel most lonesome, fill me with Your presence. Amen.

2 Timothy 4:1-2, 5, 7-8
In Jesus' Name, I pray God's Will for You Today
I pray that the Word of God will be deeply rooted in your heart so that you will always be ready to share it with anyone. May you always be ready to correct, rebuke and encourage with great patience and careful instruction. To do this, may you remember that you must keep your head in all situations. I pray that you will endure hardship and faithfully accomplish your duties. Throughout your life, I pray you will be prepared to fight the good fight - able to spread the gospel as you keep abreast of all your responsibilities.
In Jesus' Name, Amen.
Psalm 129:2
Many a time have they afflicted me f rom my youth: yet they have not prevailed against me.
Saundra was handicapped. Her hands were twisted beyond usefulness, and she had lived with them since birth. They caused her not only physical pain, but emotional anguish as well. Throughout her childhood, cruel children had mocked her. The damage done to her self-esteem was immense, and for a long period she believed that she could never do anything. In college she had met a friend who led her to Christ. In Christ she found a new desire to succeed and beat her affliction. She received a Master's degree in Therapy and Handicapped Services and became national spokeswoman for a handicap-awareness campaign. Though her detractors had always had something to say, Saundra prevailed and rose above her handicap.
The Lord gives us all the ability to rise above the things that limit us. If we will only lean upon Him, He will give us the will and drive to succeed in every situation. His power can be our power when we call upon His holy name.
There are times, dear Lord, when I feel I don't amount to much. My self-image is bruised, and my determination is crushed. Be with me in those times, and lift me up. Amen.

2 Corinthians 12:7-10
In Jesus' Name, I pray God's Will for You Today
I pray that in the midst of hardship, you will remember that His grace is sufficient for you. No matter what your situation may be, may His grace pull you through. His grace and power is made perfect in your weakness. Therefore, I pray that you will delight in God's grace in times of weakness - during hardship or persecution - for during those times Christ's power rests on you. May you be strengthened by God's grace and power today.
In Jesus' Name, Amen.
The plowers plowed upon my back: they made long their furrows.
 In times of total darkness, shine Your light into my life. Help me to pick myself up and start again. Give me strength, Lord. Amen.

 Father, You must have a wonderful sense of humor to put up with children like me. Forgive me for being less than You created me to be. Help me to grow and mature and develop into Your image. Amen.
Whatsoever the Lord pleased, that did he in heaven, and in earth, in the seas, and all deep places. Psalm 135:6
Prayer: Make me to remember You in all times, Lord, not just times of trial. Help me to share my whole life with you and to glory in Your presence. Thank You for staying beside me always. Amen.

 "Good morning, Lord! What are You up to today? Can I be a part of it? Thank You. Amen."
- Norman Grubb 
Prayer: You have changed my life for the better, Father, and I will never again turn from the blessings You alone can supply. Please let nothing ever come between me and Your love. Amen.
Psalm 135:5
For I know that the Lord is great, and that our Lord is above all gods.
Prayer: Receive me as I am, Lord. I worship You in the best way I know how. Help me to be open to new and different expressions of faith, and teach me to grow. Amen.
Psalm 134:2  Lift up your hands in the sanctuary, and bless the Lord.
Deuteronomy 15:10-11; Proverbs 3:27
In Jesus' Name, I pray God's Will for You Today
I pray that God will fill your heart with compassion for the poor and needy. May you be compassionate and open-handed toward the poor and needy in the land. May you give generously to those who have material needs. Give without a grudging heart, for God loves a cheerful giver. I pray that you will not withhold what is in your power to give. As you give generously and willingly, I pray that the Lord will bless you with more. I pray that He will prosper you in everything you put your hand to. May God increase the compassion in your heart today.
In Jesus' Name, Amen.
Mark 10:42-45; Philippians 2:5-8
In Jesus' Name, I pray God's Will for You Today
I pray that your attitude will be the same as that of Christ Jesus, who, in spite of being fully God, humbled himself and became obedient to the point of death. Like Christ, may you willingly take on the nature of a servant. May you prefer to serve than to be served, to be humble than to lord it over. I pray that God will exalt you for your humility and obedience.
In Jesus' Name, Amen.
 "Lord, make my life A window for Your light To shine through And a mirror to reflect Your love To all I meet. Amen."
- Robert Schuller
 "Lord, thou madest us for thyself, and we can find no rest till we find rest in thee."
- St. Augustine